How to Create a Stimulating Learning Environment at Home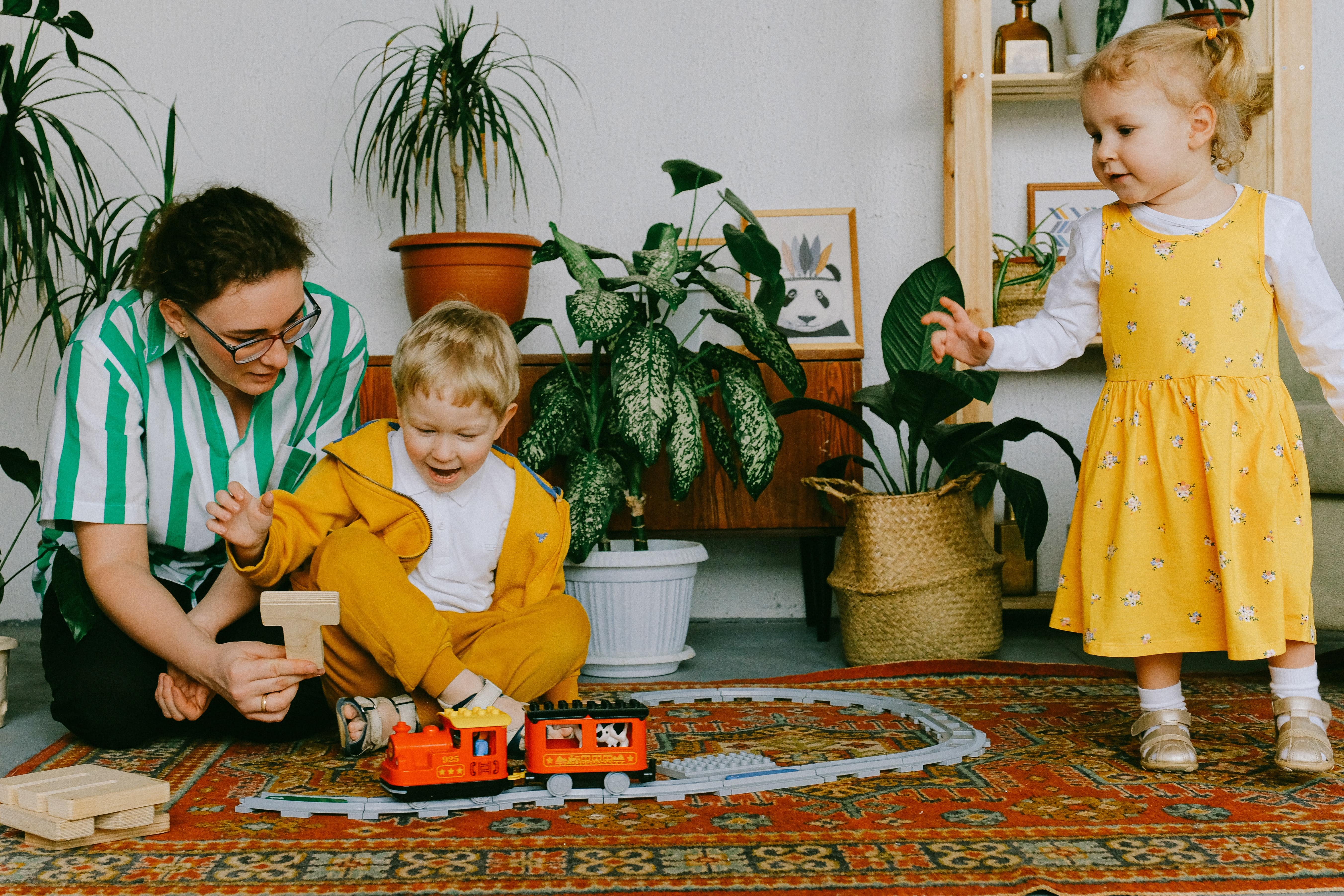 You don't need expensive toys for your children to thrive in their home environment. Most of what you need is in your kitchen cupboard - or on your doorstep. Find out how everyday activities - making dens; pairing socks; going to the shops and reading – can provide your child with all the stimulation they need in their early years of life.
Realms of parenting advice, from online articles to well-meaning relatives, can leave us confused and doubting our own instincts, at times. Then, there's the advert for the next 'must-have toy' which pops up every time we open our newsfeed. It's little wonder that we're left feeling overwhelmed and unsure about the best way to provide simple, everyday stimulation for our children.
But don't let this be a barrier to introducing your child to play-based learning at home.
At My First Five Years, we're here to help you keep it simple. Getting back to basics is the order of the day. Making a den with a clothes airer, pegs and a sheet provides many more learning opportunities than buying a pretty wigwam for your child to play in for a few days until the fascination passes. Before long, it will be shoved in the cupboard along with the other redundant toys that your child 'just had to have'.
Less is more: creating the right environment for children's learning
Piles of toys stuffed in shelves; overflowing boxes of random balls; toy cars; wooden blocks and clutter can distract your child from engaging in play in a meaningful way.
Try to put the toys in some kind of order: cars in one basket; animals in another. A trunk for dressing up clothes also works well.
It's a good idea to rotate toys, depending on your child's current interests. If they're interested in farm animals, for example, add some patches of green fabric for fields, or give them a tub – like a paint tray – add some grass and soil. Let them explore the farmyard animals eating the grass, or even the pigs rolling in the mud!
Adding thoughtful, relevant extras to children's play can extend their interests and lead to more opportunities to build their vocabulary, as well as helping them to learn more about a particular subject.
Open-ended play: the optimal play-based learning environment
The humble cardboard box – always a hit with children – is a great example of a resource that offers so much more than the average commercial toy. Children spend hours climbing in and out of them; pushing them around; making cosy spaces for their teddy bears; cutting out pieces for peep holes and drawing on them. Imaginations develop as they ride the Seven Seas with their pirate crew or create an ice castle for their Frozen characters.
Children can quickly lose interest in many battery-operated flashing, noisy toys that have been designed to have one set purpose. Cardboard boxes, along with other 'open-ended' play resources, such as basic wooden blocks, are examples of resources that have no pre-determined play purpose. They can be used for construction and discussions around symmetry and estimation. For example, how many children can fit in the box standing up?
And lying down? Or, how can we build a bridge across the two towers?
Pretend play: irresistible ideas for play-based learning
'Eating' food in a toy picnic set or creating make-believe characters using puppets are examples of play-based learning activities that will help develop your toddler's social and emotional skills.
If these skills are less well-developed, they may experience difficulties as they get older: for example, when trying to make friends or settle in at school.
Share books and stories: early learning strategies designed to be fun
Your child will love hearing stories about funny things that happened or events from your own childhood. You may bring these ideas to life by creating fictional characters to represent some of the challenges you faced when you were a child. For example, 'Once upon a time, there was a little boy named James who grew up in the countryside. He spent a lot of his time talking to the animals on his farm. Peter the Pig was his best friend but all he could do was grunt, so James set about making some new friends.'
Changing the tone of your voice; creating drama and intrigue and making gestures with your hands will capture your child's interest and leave them wanting more. You may even surprise yourself at what your imagination is capable of conjuring up!
Reading together and talking about pictures in books will also help children to learn and understand new words and develop a love of reading.
Everyday games
There are plenty of games you can play with your children, using household items. Collect bottle tops or buttons and sort them into colours or sizes; throw balls into buckets - or see who can match up pairs of socks the fastest.
Out and about
Even a short trip to the end of your road will inspire lots of opportunities to talk. You may bump into a friendly neighbour who asks your child about their scooter – or where they're going. A rubbish truck could be parked outside your house, which can lead to conversations around waste and recycling. House numbers are also a great way to encourage children to spot numbers.
Every interaction stimulates your child's brain. And every day is an opportunity to develop your child's communication skills, which will lay the foundations for future learning.