My First Five Years Terms and Conditions
Please find below the following terms and conditions governing your use of, access to and (where applicable) payment for My First Five Years' website and mobile application. This document contains the following terms and conditions:
Website and Mobile Application Terms of Use (which includes the Acceptable Use Policy) (Terms of Use); and

Terms and Conditions of Trading (Trading Terms).
MY FIRST FIVE YEARS WEBSITE AND MOBILE APPLICATION TERMS OF USE AND ACCEPTABLE USE POLICY
PLEASE READ THESE TERMS OF USE CAREFULLY BEFORE USING OUR PLATFORMS
What's in these terms?
These terms tell you the rules for using our website, www.mffy.com (our site), and mobile application, My First Five Years (our App) (together, our Platforms) (Terms of Use). These Terms of Use also include our Acceptable Use Policy which sets out the permitted uses and prohibited uses of our Platforms.
Who we are and how to contact us
Our site and our App are the Platforms operated by My First Five Years Ltd (we, us, our). We are registered in England and Wales under company number 13158436 and have our registered office at the Copper Room, Trinity Way, Salford, England, M3 7BG. Our VAT number is 378378146.
We are a limited company.
To contact us, please email hi5@mffy.com.
By using our Platforms you accept these Terms of Use
Use of our App
By downloading the App, signing up for an MFFY Subscription (see our Trading Terms for more details) and making all subsequent monthly subscription payments (see our Trading Terms for more details), you agree to these Terms of Use. If you do not agree to these Terms of Use, do not sign up for an MFFY Subscription.
In order to use our App, you need a licence from us. We therefore licence you to use our App, any updates or supplements to it and the content contained on the App (the Content) as permitted in these Terms of Use.
Use of our site
By using our site, you confirm that you accept these Terms of Use and that you agree to comply with them. If you do not agree to these Terms of Use, you must not use our site.
We recommend that you print a copy of these Terms of Use for future reference.
There are other terms that may apply to you
These Terms of Use refer to the following additional terms, which also apply to your use of our Platforms:
Our Privacy Policy https://www.mffy.com/privacy-policy
Our Cookie Policy https://www.mffy.com/cookie-policy which sets out information about the cookies on our Platforms.
Our Trading Terms, set out below, which set out of the terms of supply of the Content via our App.
The ways in which you can use the App may also be controlled by (depending on your operating system) Apple's rules and policies https://www.apple.com/uk/legal/internet-services/itunes/uk/terms.html or https://play.google.com/about/play-terms/index.html. Those rules and policies shall take precedence in the event of any conflict between those rules and policies and these Terms of Use.
Operating system requirements for use of the App and how you may use the App
The App requires a smartphone device with the minimum compatibility requirements displayed on App Store and Play Store
In return for your agreeing to comply with these Terms of Use, you may:
download or stream a copy of the App onto 1 device and view, use and display the App on such devices for personal purposes only. In addition, you may share the App in accordance with the rules set out in https://www.apple.com/uk/family-sharing/; and
receive and use any free supplementary software code or update of the App incorporating "patches" and corrections of errors as we may provide to you.
You are not permitted to:
transfer the App to someone else, whether for money, for anything else, or for free. If you sell any device on which the App is installed, you must remove the App from it;

download the App on to a device not owned by you where you do not have the owner's permission;

rent, lease, sub-license, loan, provide or otherwise make available, the App or the Content in any form, in whole or in part to any person without prior written consent from us;

copy the App or the Content, except as part of the normal use of the App or where it is necessary for the purpose of back-up or operational security;
not translate, merge, adapt, vary, alter or modify, the whole or any part of the App or the Content nor permit the App or the Content or any part of them to be combined with, or become incorporated in, any other programs, except as necessary to use the App on devices as permitted in these Terms of Use;
not disassemble, de-compile, reverse engineer or create derivative works based on the whole or any part of the App or the Content nor attempt to do any such things, except to the extent that (by virtue of sections 50B and 296A of the Copyright, Designs and Patents Act 1988) such actions cannot be prohibited because they are necessary to decompile the App to obtain the information necessary to create an independent program that can be operated with the App or with another program (Permitted Objective), and provided that the information obtained by you during such activities:

is not disclosed or communicated without our prior written consent to any third party to whom it is not necessary to disclose or communicate it in order to achieve the Permitted Objective; and
is not used to create any software that is substantially similar in its expression to the App;
is kept secure; and
is used only for the Permitted Objective;
comply with all applicable technology control or export laws and regulations that apply to the technology used or supported by the App or any Content.
We may make changes to these Terms of Use
We amend these Terms of Use from time to time. Every time you wish to use our site, please check these Terms of Use to ensure you understand the Terms of Use that apply at that time. Where you subscribe to our App, we will notify you of any changes to these Terms of Use when you next start the App.
If you do not accept the changes:
In the case of our site, you must cease using our site; and

In the case of our App, you may not be permitted to continue using the App, and you may be entitled to a partial refund of subscription fees. Please see our Trading Terms for more details about this.
We may make changes to our Platforms
We may update and change our Platforms from time to time to reflect changes to our Content (which includes, for the purposes of this section, the content of our site), our users' needs and our business priorities, to improve performance, enhance functionality, reflect changes to the operating system or address security issues.
We may suspend or withdraw our Platforms
Our site is made available free of charge. Our App is free to download but to sign in and access Content, this must be paid for via a monthly subscription fee.
We do not guarantee that our Platforms, or any Content on them, will always be available or be uninterrupted. We may suspend or withdraw or restrict the availability of all or any part of our Platforms for business and operational reasons. We will try to give you reasonable notice of any suspension or withdrawal. Where necessary and applicable, we will also arrange refunds in these circumstances.
You are also responsible for ensuring that all persons who access our Platforms through your internet connection are aware of Terms of Use and other applicable terms and conditions, and that they comply with them.
We may transfer this agreement to someone else
We may transfer our rights and obligations under these Terms of Use to another organisation. We will always tell you in writing if this happens and we will ensure that the transfer will not affect your rights under the contract.
You must keep your account details safe
If you choose, or you are provided with, a user identification code, password or any other piece of information as part of our security procedures, you must treat such information as confidential. You must not disclose it to any third party.
We have the right to disable any user identification code or password, whether chosen by you or allocated by us, at any time, if in our reasonable opinion you have failed to comply with any of the provisions of these Terms of Use.
If you know or suspect that anyone other than you knows your user identification code or password, you must promptly notify us at hi5@mffy.com
How you may use material on our Platforms
We are the owner or the licensee of all intellectual property rights in our Platforms, and in the material published on them. Those works are protected by copyright laws and treaties around the world. All such rights are reserved.
You may print off one copy, and may download extracts, of any page(s) from our Platforms for your personal use and you may draw the attention of others to Content on our Platforms.
You must not modify the paper or digital copies of any materials you have printed off or downloaded in any way, and you must not use any illustrations, photographs, video or audio sequences or any graphics separately from any accompanying text.
Our status (and that of any identified contributors) as the authors of Content on our Platforms must always be acknowledged (except where the Content is user-generated).
You must not use any part of the Content on our Platforms for commercial purposes without obtaining a licence to do so from us or our licensors. For the avoidance of doubt, such a licence is in addition to these Terms of Use and the licence granted within them.
If you print off, copy, download, share or repost any part of our Platforms in breach of these Terms of Use, your right to use our Platforms will cease immediately and you must, at our option, return or destroy any copies of the materials you have made.
No text or data mining, or web scraping
You shall not conduct, facilitate, authorise or permit any text or data mining or web scraping in relation to our Platforms or any services provided via, or in relation to, our Platforms. This includes using (or permitting, authorising or attempting the use of):
any "robot", "bot", "spider", "scraper" or other automated device, program, tool, algorithm, code, process or methodology to access, obtain, copy, monitor or republish any portion of the Platforms or any data, Content, information or services accessed via the same; and
any automated analytical technique aimed at analysing text and data in digital form to generate information which includes but is not limited to patterns, trends and correlations.
The provisions in this clause should be treated as an express reservation of our rights in this regard, including for the purposes of Article 4(3) of Digital Copyright Directive ((EU) 2019/790).
This clause shall not apply insofar as (but only to the extent that) we are unable to exclude or limit text or data mining or web scraping activity by contract under the laws which are applicable to us.
Our Platforms, the Content and any services provided in relation to the same are only targeted to, and intended for use by, individuals located in the UK. By continuing to access, view or make use of our Platforms, our Content and related services, you hereby warrant and represent to us that you are located in the UK. If you are not located in the UK, you must immediately discontinue use of our Platforms, our Content and related services.
Do not rely on information on our Platforms
The Content (including that provide on our site) is provided for general information only. It is not intended to amount to advice on which you should rely. You must obtain professional or specialist advice before taking, or refraining from, any action on the basis of the Content on our Platforms.
Although we make reasonable efforts to update the information on our Platforms, we make no representations, warranties or guarantees, whether express or implied, that the Content on our Platforms is accurate, complete or up to date.
We are not responsible for Platforms we link to
Where our Platforms contain links to other platforms and resources provided by third parties, these links are provided for your information only. Such links should not be interpreted as approval by us of those linked platforms or information you may obtain from them.
We have no control over the contents of those platforms or resources.
User-generated content is not approved by us
Our Platforms may include information and materials uploaded by other users of the Platforms, including to bulletin boards and chat rooms. This information and these materials have not been verified or approved by us. The views expressed by other users on our Platforms do not represent our views or values.
How to complain about content uploaded by other users
If you wish to complain about content uploaded by other users, please contact us on hi5@mffy.com
Our responsibility for loss or damage suffered by you
Whether you are a consumer or a business user:
We do not exclude or limit in any way our liability to you where it would be unlawful to do so. This includes liability for death or personal injury caused by our negligence or the negligence of our employees, agents or subcontractors and for fraud or fraudulent misrepresentation.
Different limitations and exclusions of liability will apply to liability arising as a result of the supply of any products to you, which will be set out in our Trading Terms below.
If you are a business user:
We exclude all implied conditions, warranties, representations or other terms that may apply to our Platforms or any Content.
We will not be liable to you for any loss or damage, whether in contract, tort (including negligence), breach of statutory duty, or otherwise, even if foreseeable, arising under or in connection with:
use of, or inability to use, our Platforms; or
use of or reliance on any Content displayed on our Platforms.
In particular, we will not be liable for:
loss of profits, sales, business, or revenue;
business interruption;
loss of anticipated savings;
loss of business opportunity, goodwill or reputation; or
any indirect or consequential loss or damage.
If you are a consumer user:
Please note that we only provide our Platforms for domestic and private use. You agree not to use our Platforms for any commercial or business purposes, and we have no liability to you for any loss of profit, loss of business, business interruption, or loss of business opportunity.
If defective digital content that we have supplied, damages a device or digital content belonging to you and this is caused by our failure to use reasonable care and skill, we will either repair the damage or pay you compensation. However, we will not be liable for damage that you could have avoided by following our advice to apply an update offered to you free of charge or for damage that was caused by you failing to correctly follow installation instructions or to have in place the minimum system requirements advised by us.
How we may use your personal information
We will only use your personal information as set out in our Privacy Policy https://www.mffy.com/privacy-policy.
Uploading content to our Platforms
Whenever you make use of a feature that allows you to upload content to our Platforms, or to make contact with other users of our Platforms, you must comply with the content standards set out in our Acceptable Use Policy below:
Our Acceptable Use Policy
In this "Acceptable Use Policy", "Platforms" also covers any use of or upload to any of our official Facebook groups.
Prohibited uses
You may not use our Platforms:
In any way that breaches any applicable local, national or international law or regulation.
In any way that is unlawful or fraudulent or has any unlawful or fraudulent purpose or effect.
For the purpose of harming or attempting to harm minors in any way.
To bully, insult, intimidate or humiliate any person.
To send, knowingly receive, upload, download, use or re-use any material which does not comply with our content standards.

To transmit, or procure the sending of, any unsolicited or unauthorised advertising or promotional material or any other form of similar solicitation (spam).
To knowingly transmit any data, send or upload any material that contains viruses, Trojan horses, worms, time-bombs, keystroke loggers, spyware, adware or any other harmful programs or similar computer code designed to adversely affect the operation of any computer software or hardware.
To upload terrorist content.
You also agree:
Not to reproduce, duplicate, copy or re-sell any part of our Platforms in contravention of the provisions of our Terms of Use.

Not to access without authority, interfere with, damage or disrupt:

any part of our Platforms;
any equipment or network on which our Platforms are stored;

any software used in the provision of our Platforms; or

any equipment or network or software owned or used by any third party.
Interactive services
We may from time to time provide interactive services on our Platforms, including, without limitation:
Video-sharing facilities.
Facebook Groups
Bulletin boards.
(interactive services.)
Where we do provide any interactive service, we will provide clear information to you about the kind of service offered, if it is moderated and what form of moderation is used (including whether it is human or technical).
We will do our best to assess any possible risks for users (and in particular, for children) from third parties when they use any interactive service provided on our Platforms, and we will decide in each case whether it is appropriate to use moderation of the relevant service (including what kind of moderation to use) in the light of those risks. However, we are under no obligation to oversee, monitor or moderate any interactive service we provide on our Platforms, and we expressly exclude our liability for any loss or damage arising from the use of any interactive service by a user in contravention of our content standards, whether the service is moderated or not.
The use of any of our interactive services by a minor is subject to the consent of their parent or guardian. We advise parents who permit their children to use an interactive service that it is important that they communicate with their children about their safety online, as moderation is not fool proof. Minors who are using any interactive service should be made aware of the potential risks to them.
Where we do moderate an interactive service, we will normally provide you with a means of contacting the moderator, should a concern or difficulty arise.
Content Standards
These content standards apply to any and all material which you contribute to our Platforms (Contribution), and to any interactive services associated with it.
The Content Standards must be complied with in spirit as well as to the letter. The standards apply to each part of any Contribution as well as to its whole.
We will determine, at our discretion, whether a Contribution breaches the Content Standards.
A Contribution must:
Be accurate (where it states facts).
Be genuinely held (where it states opinions).
Comply with the law applicable in England and Wales and in any country from which it is posted.
A Contribution must not:
Be defamatory of any person.
Be obscene, offensive, hateful or inflammatory.
Bully, insult, intimidate or humiliate.
Promote sexually explicit material.
Include child sexual abuse material.
Promote violence.
Promote discrimination based on race, sex, religion, nationality, disability, sexual orientation or age.
Infringe any copyright, database right or trade mark of any other person.
Be likely to deceive any person.
Breach any legal duty owed to a third party, such as a contractual duty or a duty of confidence.
Promote any illegal content or activity.
Be in contempt of court.
Be threatening, abuse or invade another's privacy, or cause annoyance, inconvenience or needless anxiety.
Be likely to harass, upset, embarrass, alarm or annoy any other person.
Impersonate any person or misrepresent your identity or affiliation with any person.
Give the impression that the Contribution emanates from My First Five Years if this is not the case.
Advocate, promote, incite any party to commit, or assist any unlawful or criminal act such as (by way of example only) copyright infringement or computer misuse.
Contain a statement which you know or believe, or have reasonable grounds for believing, that members of the public to whom the statement is, or is to be, published are likely to understand as a direct or indirect encouragement or other inducement to the commission, preparation or instigation of acts of terrorism.
Contain any advertising or promote any services or web links to other sites or Platforms.
For the avoidance of doubt, for any Contribution in the form of video content:
You must not upload any videos containing any of the following: criminal material (relating to terrorism, sexual exploitation of children, child pornography, racism and xenophobia), unclassified or unclassifiable videos, videos rated R18 or suitable for R18 rating and other material that might impair the physical, mental or moral development of persons under the age of 18 (restricted material).
You must not upload a video containing harmful material.
You must not upload a video containing advertising for any of the following:
cigarettes and other tobacco products, electronic cigarettes or electronic cigarette refill containers, and prescription-only medicine; or
for alcoholic drinks that are not aimed specifically at under 18s and do not encourage immoderate consumption of alcohol.
Any video you upload must not:
prejudice respect for human dignity;
include or promote discrimination based on sex, racial or ethnic origin, nationality, religion or belief, disability, age or sexual orientation;
encourage behaviour prejudicial to health or safety;
encourage behaviour grossly prejudicial to the protection of the environment;
cause physical, mental or moral detriment to persons under the age of 18;
directly exhort such persons to purchase or rent goods or services in a manner which exploits their inexperience or credulity;
directly encourage such persons to persuade their parents or others to purchase or rent goods or services;
exploit the trust of such persons in parents, teachers or others; or
unreasonably show such persons in dangerous situations.
You must use the functionality provided on our Platforms to declare whether, as far as you know or can reasonably be expected to know, any video contains advertising.
Breach of this policy
When we consider that a breach of this Acceptable Use Policy has occurred, we may take such action as we deem appropriate.
Failure to comply with this Acceptable Use Policy constitutes a material breach of these Terms of Use and may result in our taking all or any of the following actions:
Immediate, temporary or permanent withdrawal of your right to use our Platforms.
Immediate, temporary or permanent removal of any Contribution uploaded by you to our Platforms.
Issue of a warning to you.
Legal proceedings against you for reimbursement of all costs on an indemnity basis (including, but not limited to, reasonable administrative and legal costs) resulting from the breach.
Further legal action against you.
Disclosure of such information to law enforcement authorities as we reasonably feel is necessary or as required by law.
We exclude our liability for all action we may take in response to breaches of this Acceptable Use Policy. The actions we may take are not limited to those described above, and we may take any other action we reasonably deem appropriate.
You warrant that any such contribution does comply with the above Acceptable Use Policy, and you will be liable to us and indemnify us for any breach of that warranty. This means you will be responsible for any loss or damage we suffer as a result of your breach of warranty.
Any content you upload to our Platforms will be considered non-confidential and non-proprietary. You retain all of your ownership rights in your content, but you are required to grant us and other users of our Platforms a limited licence to use, store and copy that content and to distribute and make it available to third parties. The rights you license to us are described below.
We also have the right to disclose your identity to any third party who is claiming that any content posted or uploaded by you to our Platforms constitutes a violation of their intellectual property rights, or of their right to privacy.
We have the right to remove any posting you make on our Platforms if, in our opinion, your post does not comply with the content standards set out in our Acceptable Use Policy above.
You are solely responsible for securing and backing up your content.
We do not store terrorist content.
Rights you are giving us to use material you upload
When you upload or post content to our Platforms, you grant us the following rights to use that content:
a worldwide, non-exclusive, royalty-free, transferable licence to use, reproduce, distribute, prepare derivative works of, display, and perform that user-generated content in connection with the service provided by our Platforms and across different media including to promote our Platforms or Content forever; and
a worldwide, non-exclusive, royalty-free, transferable licence for other users, partners or advertisers to use the content for their purposes forever.
We are not responsible for viruses and you must not introduce them
We do not guarantee that our Platforms will be secure or free from bugs or viruses.
You are responsible for configuring your information technology, computer programmes and platform to access our Platforms. You should use your own virus protection software.
You must not misuse our Platforms by knowingly introducing viruses, trojans, worms, logic bombs or other material that is malicious or technologically harmful. You must not attempt to gain unauthorised access to our Platforms, the server on which our Platforms are stored or any server, computer or database connected to our Platforms. You must not attack our Platforms via a denial-of-service attack or a distributed denial-of service attack. By breaching this provision, you would commit a criminal offence under the Computer Misuse Act 1990. We will report any such breach to the relevant law enforcement authorities and we will co-operate with those authorities by disclosing your identity to them. In the event of such a breach, your right to use our Platforms will cease immediately.
Rules about linking to our Platforms
You may link to our home page, provided you do so in a way that is fair and legal and does not damage our reputation or take advantage of it.
You must not establish a link in such a way as to suggest any form of association, approval or endorsement on our part where none exists.
You must not establish a link to our Platforms on any platform that is not owned by you.
Our Platforms must not be framed on any other platform, nor may you create a link to any part of our Platforms other than the home pages.
We reserve the right to withdraw linking permission without notice.
The platforms in which you are linking must comply in all respects with the content standards set out in our Acceptable Use Policy above.
If you wish to link to or make any use of content on our Platforms other than that set out above, please contact hi5@mffy.com
Which country's laws apply to any disputes?
If you are a consumer, please note that these Terms of Use, their subject matter and their formation, are governed by English law. You and we both agree that the courts of England and Wales will have exclusive jurisdiction except that if you are a resident of Northern Ireland you may also bring proceedings in Northern Ireland, and if you are a resident of Scotland, you may also bring proceedings in Scotland.
If you are a business, these Terms of Use, their subject matter and their formation (and any non-contractual disputes or claims) are governed by English law. We both agree to the exclusive jurisdiction of the courts of England and Wales.
Our trademarks are registered
The following trademarks are the UK registered trademarks of My First Five Years Ltd: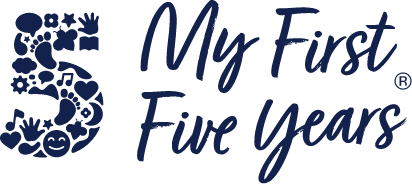 You are not permitted to use them without our approval unless they are part of the material you are using as permitted under these Terms of Use.
My First Five Years Terms and Conditions of Trading
If you sign-up for a MFFY subscription (see below for more details) via any method other than via our mobile application, the trading terms below apply.
IF YOU SIGN-UP FOR A MFFY SUBSCRIPTION (SEE BELOW FOR MORE DETAILS) VIA ANY METHOD OTHER THAN VIA OUR MOBILE APPLICATION, THE TRADING TERMS BELOW APPLY.
IF YOU SIGN UP FOR A MFFY SUBSCRIPTION THROUGH AN APP STORE, THAT PARTICULAR APP STORE'S TERMS AND CONDITIONS WILL ALSO APPLY:
THE APPLE TERMS AND CONDITIONS ARE ACCESSIBLE

HERE

(THE APPLE TERMS).
THE GOOGLE PLAY TERMS AND CONDITIONS ARE ACCESSIBLE

HERE

(THE GOOGLE TERMS).
IN PARTICULAR, WITH REGARDS TO CLAUSE 10, APPLE AND GOOGLE PLAY (DEPENDING ON THE APP STORE FROM WHICH YOU SIGNED UP FOR A MFFY SUBSCRIPTION) ARE OUR COLLECTION AGENTS FOR PAYMENT AND THEREFORE THIS CLAUSE WILL NOT APPLY. THE TRADING TERMS BELOW WILL ONLY APPLY WHERE THE SAME IS NOT COVERED BY THE APPLE OR GOOGLE PLAY TERMS. HOWEVER, IN THE EVENT OF ANY CONFLICT BETWEEN THE APPLE OR GOOGLE PLAY TERMS AND THE TRADING TERMS BELOW, THE APPLE OR GOOGLE PLAY TERMS SHALL TAKE PRECEDENCE.
These terms

What these terms cover. These are the terms and conditions on which we supply our digital content, via our mobile application (My First Five Years, our App), to you (our Trading Terms).
Why you should read them. Please read these Trading Terms carefully before you download, subscribe to, and begin to pay for access to and use of our App. These Trading Terms tell you who we are, how you and we may change or end the contract, what to do if there is a problem and other important information. If you think that there is a mistake in these Trading Terms, please contact us to discuss.

Information about us and how to contact us

Who we are. We are My First Five Years Ltd a company registered in England and Wales. Our company registration number is 13158436 and our registered office is at The Copper Room, Trinity Way, Salford, England, M3 7BG (MFFY, we, us, our). Our registered VAT number is 378378146.
How to contact us. You can contact us by emailing us at hi5@mffy.com or by writing to us atMy First Five Years Ltd, Didsbury Business Centre, 137 Barlow Moor Rd, Manchester M20 2PW
How we may contact you. If we have to contact you we will do so by telephone or by writing to you at the email address or postal address you provide to us when you sign up for a MFFY Subscription (see below at clause 3.1).
"Writing" includes emails. When we use the words "writing" or "written" in these Trading Terms, this includes emails.

A contract comes into existence between you and us when:

you click to download our App;
the App downloads onto your device;
you subsequently sign up for an MFFY Subscription; and
you receive email confirmation of your MFFY Subscription.

Please note that download of the App is free of charge but the App largely contains little to no content unless and until you sign up for a subscription with us via the App (MFFY Subscription, the contract between you and us to become a MFFY Member). When you sign up to become a MFFY Member, you agree to pay a monthly subscription fee (or any applicable promotional fee ongoing at the point of sign-up) (Fee) in order to access the content of the App, which includes but is not limited to information about child development and parenting (Content) (our Services). We offer a free trial period of 30 days from the date of sign-up so you will not pay anything for your first month's supply of Content (Free Trial Period). Thereafter, unless you cancel during the Free Trial Period, you agree that you will be opted in for automatic payment of the Fees. For the avoidance of doubt, you do not have a MFFY Subscription nor are you an MFFY Member solely by downloading the App.Our contract with you.

Our contract with you

A contract comes into existence between you and us when:

you click to download our App;
the App downloads onto your device;
you subsequently sign up for an MFFY Subscription; and
you receive email confirmation of your MFFY Subscription.

Please note that download of the App is free of charge but the App largely contains little to no content unless and until you sign up for a subscription with us via the App (MFFY Subscription, the contract between you and us to become a MFFY Member). When you sign up to become a MFFY Member, you agree to pay a monthly subscription fee (or any applicable promotional fee ongoing at the point of sign-up) (Fee) in order to access the content of the App, which includes but is not limited to information about child development and parenting (Content) (our Services). We offer a free trial period of 30 days from the date of sign-up so you will not pay anything for your first month's supply of Content (Free Trial Period). Thereafter, unless you cancel during the Free Trial Period, you agree that you will be opted in for automatic payment of the Fees. For the avoidance of doubt, you do not have a MFFY Subscription nor are you an MFFY Member solely by downloading the App.

Our Services

Our Service is the provision of the Content. The Service we provide to you is the Content accessible on our App when you sign up and pay for your MFFY Subscription.
Our Content is not advice. The Content is provided for general information only. It is not intended to amount to advice on which you should rely. You must obtain professional or specialist advice before taking, or refraining from, any action on the basis of the Content.
We make no representations, warranties or guarantees that the Content is accurate. Although we make reasonable efforts to update the information on our App, we make no representations, warranties or guarantees, whether express or implied, that the Content is accurate, complete or up to date.
We are not responsible or liable for platforms (which includes website and other mobile applications) we link to. Where our App contain links to other platforms and resources provided by third parties, these links are provided for your information only. Such links should not be interpreted as approval by us of those linked platforms or information you may obtain from them.
User-generated Content is not approved by us. Our App may include information and materials uploaded by other users of the App (other MFFY Members), including to bulletin boards and chat rooms. This information and these materials may not have been verified or approved by us for posting. In any event, the views expressed by other users on our App do not represent our views or values.

Our rights to make changes



We may make changes to these Trading Terms.

We may amend these Trading Terms from time to time. We will notify you of any change to these Trading Terms when you next start the App. If you do not accept the changes, you may only be able to partially access the Content and/or certain features of the App, or you may not be able to access the Content or the App at all. Where this is the case, you may contact the relevant app store or us as detailed in clause 2.2 to cancel your MFFY Subscription and, if we determine applicable, receive a whole or partial refund of your Fees.

Updates to the Content. We may update or require you to update the Content (for reasons including but not limited to: keeping the Content contemporary, implementing technical adjustments and improvements, addressing a security threat or reflecting changes in relevant laws and regulatory requirements), provided that the Content shall always match the description of it that we provided to you before you signed up for an MFFY Subscription.



Providing Content

When we will provide the Content to you. We will supply the Content to you via the App until your MFFY Subscription is terminated by you as described in clause 7 or we end your MFFY Subscription by written notice to you as described in clause
We are not responsible for delays outside our control. If our supply of the Content is delayed by an event outside our control then we will contact you as soon as possible to let you know and we will take steps to minimise the effect of the delay. Provided we do this we will not be liable for delays caused by the event, but if there is a risk of substantial delay you may contact us to end the contract and receive a refund for any Content you have paid for but not received.
What will happen if you do not give the required information to us. We may need certain information from you so that we can supply some of the Content to you, for example, certain details about your child's current stage of development and their mastered skills. If so, this will have been stated in the description of the Content on our site/on the relevant app store. If necessary, we will contact you to ask for this information. If you do not give us this information within a reasonable time of us asking for it, or if you give us incomplete or incorrect information, use of our Platforms and access to the Content will be limited. We will not be responsible for supplying the Content late or not supplying any part of it if this is caused by you not giving us the information we need within a reasonable time of us asking for it.
Reasons we may suspend use of the App. We may have to suspend use of the App to:

deal with technical problems or make minor technical changes;
update the Content to reflect changes in relevant laws and regulatory requirements; and/or
make changes to the Content (see clause 5).

Your rights if we suspend use of the App. We will contact you in advance to tell you we will be suspending use of the App, unless the problem is urgent or an emergency. If we have to suspend use of the App we will adjust the Fees so that you do not pay for your MFFY Subscription while use of the App is suspended. You may contact us or the relevant app store to end your MFFY Subscription if we suspend it, or tell you we are going to suspend it, in each case for a period of more than 14 days and we will partially refund on a pro-rated basis that relevant month's Fees if applicable.
We may also suspend use of the App if you do not pay the Fees. If you do not pay us the Fees when you are supposed to (see clause 4) and you still do not make payment within 14 days of us reminding you that payment is due, we may suspend use of the App until you have paid us the outstanding Fees. We will contact you to tell you we are suspending use of the App. We will not charge you for our Services during the period for which they are suspended under this clause 6.6. As well as suspending use of the App we can also charge you interest on your overdue payments (see clause 10.5).



Your rights to end your MFFY subscription

You can always end your MFFY Subscription. Your rights when you end your MFFY Subscription will depend on whether there is anything wrong with our Service, how we are performing and when you decide to end your MFFY Subscription:

If you do not believe that the App and/or the Content is as described to you before you signed up for an MFFY Subscription or the App is faulty, you may have a legal right to end your MFFY Subscription (or to get the App and/or Content repaired or replaced or to get some or all of your Fees back):

How to tell us about problems. If you have any questions or complaints about the App and/or the Content, please contact us. You can write to us at hi5@mffy.com or My First Five Years Ltd, Didsbury Business Centre, 137 Barlow Moor Rd, Manchester M20 2PW.
Summary of your legal rights. We are under a legal duty to supply Services that are in conformity with these Trading Terms. See the box below for a summary of your key legal rights in relation to the Services. Nothing in these Trading Terms will affect your legal rights.

Summary of your key legal rights.

This is a summary of your key legal rights. These are subject to certain exceptions. For detailed information please visit the Citizens Advice website www.adviceguide.org.uk or call 03454 04 05 06.

As your MFFY Subscription involves the supply of digital content, your rights under the Consumer Rights Act 2015 apply. The Consumer Rights Act 2015 says digital content must be as described, fit for purpose and of satisfactory quality:

a) If your digital content is faulty, you're entitled to a repair or a replacement.

b) If the fault can't be fixed, or if it hasn't been fixed within a reasonable time and without significant inconvenience, you can get some or all of your money back.

c) If you can show the fault has damaged your device and we haven't used reasonable care and skill, you may be entitled to a repair or compensation.Your rights to end YOUR MFFY subscription

If you want to end the contract because of something we have done or have told you we are going to do:

If you are ending the contract for a reason set out at (a) to (d) below the contract will end immediately and, where applicable, we will provide you with a refund or partial refund of Fees already paid. You may also be entitled to compensation. The reasons are:

we have told you about an upcoming change to the App or Content or these Trading Terms which you do not agree to (see clause 1);
we have told you about an error in the price or description of the App or Content (see clause 10.3) and you do not wish to proceed;
we have suspended supply of use of the App for technical reasons, or notify you we are going to suspend them for technical reasons, in each case for a period of more than 14 days; or
you have a legal right to end the contract because of something we have done wrong.

If (within 14 days after your first Fee payment was made) you have just changed your mind about your MFFY Subscription, under the Consumer Contracts Regulations 2013, you may be able to get a refund of Fees if you are within the "cooling-off period", but this may be subject to deductions. The cooling-off period is 14 days after the day on which you make your first Fee payment (which is the day that the Free Trial Period ends). You have until this day to change your mind about your MFFY Subscription, tell us that you wish to cancel it and receive a full refund of Fees already paid.
When you don't have the right to change your mind. You do not have a right to change your mind in respect of certain Content after you have started to download or stream the same.
In all other cases, you can end your MFFY Subscription at any time for any reason and not pay any further Fees. As all MFFY Subscriptions do not have minimum terms, you can end your MFFY Subscription at any time for any reason (but you will not be entitled to a refund (unless the circumstances at clauses 7.1.1 – 7.1.3 apply), only a cancellation of any future Fees, unless and until you decide to restart your MFFY Subscription). Your MFFY Subscription will continue for the remainder of the month in which you made your most recent Fee payment (unless you cancel under this clause 7.1.5 during your Free Trial Period in which case your MFFY Subscription will continue for the remainder of the month in which you signed up for your MFFY Subscription) and will then end, after which time you will no longer be able to access the Content (and no future Fees will be taken). For example:

where you are not ending your MFFY Subscription during the Free Trial Period, if your most recent Fee payment was on12th May 2022 and decide to end your MFFY Subscription under this clause 7.1.5 on 25th May 2022, your MFFY Subscription will continue until 12th June 2022 (such that you are able to access the Content for the full and final month of your MFFY Subscription).
where you are ending your MFFY Subscription during the Free Trial Period, if you began your MFFY Subscription on 3rd January 2022, and decide to end your MFFY Subscription on 14th January, your MFFY Subscription will continue until 2nd February 2022 (such that you are able to access the Content for the remainder of your Free Trial Period).



How to end the contract with us (including if you have changed your mind)

Tell us you want to end the contract. To end the contract with us, please let us know by doing one of the following:

Via the App itself. On your account page on the App, follow the onscreen instructions to end your MFFY Subscription.
Phone or email. Email us at hi5@mffy.com. Please provide your name, MFFY Subscription number and, where available, your phone number and email address.
Online. Complete the https://www.mffy.com/contact-us-my-first-five-years on our website.
By post. Print off the printable form and post it to us at the address on the form. Or simply write to us at that address, including details of what you bought, when you ordered or received it and your name and address.

How we will refund you. If you are applicable for a full or partial refund of any Fees, we will refund you by the method you used for payment of the Fees. However, we may make deductions from the price, as described below.
Deductions from refunds if you are exercising your right to change your mind. If you are exercising your right to change your mind, we may deduct from any refund an amount for the supply of the App and/our Content for the period for which it was supplied, ending with the time when you told us you had changed your mind. The amount will be in proportion to what has been supplied, in comparison with the full coverage of your MFFY Subscription.
When your refund will be made. We will make any refunds due to you as soon as possible. If you are exercising your right to change your mind, your refund will be made within 14 days of you telling us you have changed your mind.



Our rights to end the contract

We may end your MFFY Subscription where you do not pay the Fees when due or you breach our Terms of Use. We may end your MFFY Subscription at any time by writing to you if:

you do not make a Fee payment to us when it is due and you still do not make payment within 14 days of us reminding you that payment is due; and/or
you materially or continually breach our Terms of Use.

You must compensate us if you do not pay the Fees or breach our Terms of Use. If we end your MFFY Subscription in the situations set out in clause 9.1 we will refund any Fees you have paid in advance for Content we have not provided but we may deduct or charge reasonable compensation for the net costs we will incur as a result of you not paying our Fees or breaching our Terms of Use.
We may withdraw the App. We may write to you to let you know that we are going to stop providing or updating the App such that we intend to withdraw it from the relevant app store. We will let you know at least 1 week in advance of our withdrawing the App and stopping the supply of Content and will refund any sums you have paid in advance for Content that will not be provided.

Price and Payment

PLEASE NOTE: IF YOU SIGNED UP FOR A MFFY SUBSCRIPTION VIA AN APP STORE, ALL FEES WILL BE COLLECTED BY APPLE OR GOOGLE PLAY (DEPENDING ON WHICH APP STORE YOU USED). PLEASE SEE APPLE'S TERMS (ACCESSIBLE HERE) OR GOOGLE TERMS (ACCESSIBLE HERE) FOR MORE DETAILS

Where to find the price of the Fees for your MFFY Subscription. The Fees (which include VAT) will be the monthly (or other promotional) price indicated on the relevant pages of the App or our site (www.mffy.com) when you sign up for an MFFY Subscription. We take all reasonable care to ensure that the Fee price advised to you at the relevant time is correct. However please see clause 10.3 for what happens if we discover an error in the Fee price.
We will pass on changes in the rate of VAT. If the rate of VAT changes during the course of your MFFY Subscription, we will adjust the rate of VAT that you pay accordingly.
What happens if we got the price wrong. It is always possible that, despite our best efforts, the Fees may be incorrectly stated. Where you should have been or should be charged less than the Fees quoted, we will charge you the lower amount going forward and/or refund any Fees already paid over that correct lower amount. Where you should have been or should be charged more that the Fees quoted, we will contact you to let you know of our error and to obtain your instructions as to whether you wish to continue with your MFFY Subscription (and issue a refund where you do not wish to do so). Where a pricing error is obvious and unmistakeable and could reasonably have been recognised by you as a mispricing, we may end your MFFY Subscription, refund you any Fees you have paid and end your access to the App and Content.
When you must pay and how you must pay. We accept payment of Fees in arrears only by monthly direct debit with debit or credit card The monthly Fee amount and all payment dates will be advised on our site or relevant app store page prior to any sign-up for a MFFY Subscription. Please read these details carefully. For any Content which we offer to you which is payable over and above your Fee, you must pay for the Content before you download it.

.

We can charge interest if you pay late. If you do not make any Fee payment to us by the due date we may charge interest to you on the overdue amount at the rate of 4% a year above the base lending rate of Barclays Bank from time to time. This interest shall accrue on a daily basis from the due date until the date of actual payment of the overdue amount, whether before or after judgment. You must pay us interest together with any overdue amount.
What to do if you think any of your monthly Fee payments are wrong or have been taken incorrectly. If you think a Fee payment is wrong or has been taken incorrectly, please contact us or the relevant app store promptly to let us know. You will not have to pay any interest until the dispute is resolved. Once the dispute is resolved we may charge you interest on correct Fees from the original due date.

Our Responsibility for loss or damage suffered by you

We are responsible to you for foreseeable loss and damage caused by us. If we fail to comply with these Trading Terms, we are responsible for loss or damage you suffer that is a foreseeable result of our breaking this contract or our failing to use reasonable care and skill. Loss or damage is foreseeable if either it is obvious that it will happen or if, at the time the contract was made, both we and you knew it might happen, for example, if you discussed it with us during the sales process.
We do not exclude or limit in any way our liability to you where it would be unlawful to do so. This includes liability for death or personal injury caused by our negligence or the negligence of our employees, agents or subcontractors; for fraud or fraudulent misrepresentation; for breach of your legal rights in relation to the Services (as summarised at clause 1.1.2); and for defective products under the Consumer Protection Act 1987
Where we are liable for defective Content. If defective Content which we have supplied damages a device or digital content belonging to you and this is caused by our failure to use reasonable care and skill we will either repair the damage or pay you compensation. However, we will not be liable for damage which you could have avoided by following our advice to apply an update offered to you free of charge or for damage which was caused by you failing to correctly follow installation instructions or to have in place the minimum system requirements advised by us.
We are not liable for business losses. We only supply the products for domestic and private use. If you use the App or the Content for any commercial, business or re-sale purpose we will have no liability to you for any loss of profit, loss of business, business interruption, or loss of business opportunity.

How we may use your personal information

Other Important Terms

We may transfer this agreement to someone else. We may transfer our rights and obligations under these Trading Terms to another organisation. We will contact you to let you know if we plan to do this. If you are unhappy with the transfer you may contact us to end the contract within 1 week of us telling you about it and we will refund you any payments you have made in advance for products not provided.
You need our consent to transfer your rights to someone else. You may only transfer your rights or your obligations under these Trading Terms to another person if we agree to this in writing.
Nobody else has any rights under this contract. This contract is between you and us. No other person shall have any rights to enforce any of its terms. Neither of us will need to get the agreement of any other person in order to end the contract or make any changes to these Trading Terms.
If a court finds part of this contract illegal, the rest will continue in force. Each of the paragraphs of these Trading Terms operates separately. If any court or relevant authority decides that any of them are unlawful, the remaining paragraphs will remain in full force and effect.
Even if we delay in enforcing this contract, we can still enforce it later. If we do not insist immediately that you do anything you are required to do under these Trading Terms, or if we delay in taking steps against you in respect of your breaking this contract (which includes where we are able to end your MFFY Subscription under clause 9), that will not mean that you do not have to do those things and it will not prevent us taking steps against you at a later date. For example, if you miss a payment and we do not chase you but we continue to allow you to access the App and/or the Content, we can still require you to make the payment at a later date.
Which laws apply to this contract and where you may bring legal proceedings. These Trading Terms are governed by English law and you can bring legal proceedings in respect of the App and/or the Content in the English courts. If you live in Scotland you can bring legal proceedings in respect of the products in either the Scottish or the English courts. If you live in Northern Ireland you can bring legal proceedings in respect of the products in either the Northern Irish or the English courts.
Alternative dispute resolution. Alternative dispute resolution is a process where an independent body considers the facts of a dispute and seeks to resolve it, without you having to go to court. If you are not happy with how we have handled any complaint, you may want to contact the alternative dispute resolution provider we use. We can provide the name of our provider on request by emailing hi5@mffy.com.
Model Cancellation Form
(Complete and return this form only if you wish to withdraw from the contract)
To My First Five Years Ltd, Didsbury Business Centre, 137 Barlow Moor Rd, Manchester M20 2PW. Email: hi5@mffy.com
I/We [*] hereby give notice that I/We [*] cancel my/our [*] contract /for the supply of the following service:
Downloaded App on [*],
Name of consumer(s),
Address of consumer(s),
Signature of consumer(s) (only if this form is notified on paper),
Date
[*] Delete as appropriate
© Crown copyright 2013.